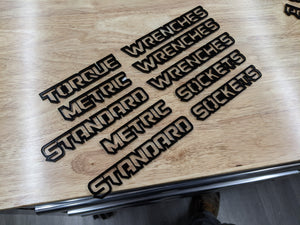 Toolbox Badge Mechanic Starter Set - Single Layer - Multiple Color Choices
Introducing Ikonic toolbox badges! These bold badges help organize your space without ruining the look of your shop. 
Tape mounting: Mount to your toolbox, cabinets, drawers or any other flat surface! This mounting option is permanent. 
Each badge is approximately 1" tall. 
Full list of badges included: 
 Torque Wrenches
Metric Wrenches
Standard Wrenches
Metric Sockets
Standard Sockets